Whether you identify as lesbian, gay, bisexual, transgender, straight, or another of God's diverse creations:
You can have your wedding here!
Your talents are welcome!
You may take communion- every week!
You can become a member!
We are located in Cortland, Ohio.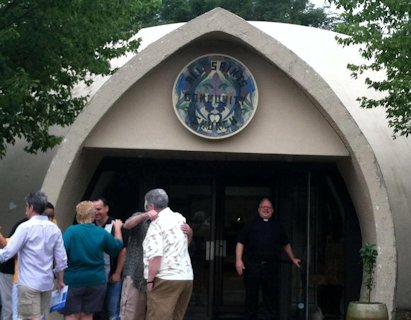 A summer Sunday morning before service.

News
The annual church Christmas Party will be Sunday December 17th after service.
On Sunday October 29th, Pastor Kim Phipps – who served us as interim pastor since her ordination on August 6th – was voted in as pastor of All Saints Community Church. She was installed as part of our Church Anniversary service on November 5, 2023.
On Sunday June 18th, the congregation unanimously voted to name Deacon Kim Phipps as our interim pastor. In the next few months, the congregation will vote whether to call Kim to be installed as our pastor. More information coming soon! Doug Sewell, Pastor Emeritus, All Saints Community Church
Note: we periodically delete old articles.