We fully welcome and affirm all people, regardless of age, gender, race, sexual orientation, marital status, disability, socioeconomic status, or spiritual background – from our Mission Statement
Our message is the Good News of Jesus Christ, who He is, what He taught us, what He has done for us, and who He has made us to be.
Our service order is blended, combining both traditional liturgy and contemporary service elements.
Our weekly Communion is open to all attending that wish to take.
Our church is accessible.
Our membership is open to all that declare Jesus as Lord and want to be a part of our church.
Our church leaders are women and men. Leadership is open to all members. Ministry opportunities (music, for example) are open to non-members as well.
As schedule allows, we will host and perform all weddings recognized by Ohio, as well as host and perform commitment ceremonies that don't require a license.
Our History
In the fall of 1994, Rev. Tom Clark and Mr. Steven Begert answered God's call to start a new church where all would be welcome. Our name, All Saints Community Church, reflects that welcome, and our motto, "Being Jesus to Others" is our purpose and promise. The founding membership group was 33 brave folk that had no idea what God was going to do.
We started in rented facilities in Warren, and in May 1996 moved to a storefront in Cortland. In October 1998, we moved into "the igloo", our present location at 4530 SR 46 in Cortland.
Rev. Tom and Steve retired in December, 2004. Pastors Jamie Kaufman and Rob Henderson served our church from 2005 to 2009. Pastor Rob began preparing then-deacon Doug Sewell to be ordained into ministry and succeed him. Pastor Doug was ordained in January 2009 and was installed as pastor in October 2009.
In November 2019 we celebrated our 25th anniversary.
In 2021, through our congregation's generosity and hard work, we paid off our building!

We Believe
Our beliefs are based on the Apostle's Creed. Note that in this context, "catholic" refers to the Church Universal, the Body of Christ.
I believe in God, the Father almighty, creator of heaven and earth.
I believe in Jesus Christ, God's only Son, our Lord,
who was conceived by the Holy Spirit, born of the Virgin Mary,
suffered under Pontius Pilate, was crucified, died, and was buried;
he descended to the dead.
On the third day he rose again; he ascended into heaven,
he is seated at the right hand of the Father,
and he will come again to judge the living and the dead.
I believe in the Holy Spirit,
the holy catholic church,
the communion of saints,
the forgiveness of sins,
the resurrection of the body,
and the life everlasting. AMEN.
For Church Clarity
Our LGBTQ policy is affirming, including employment, ordination, ministry, leadership, and weddings.
Our Women in Leadership policy is egalitarian, including employment, ordination, ministry, and leadership.
Pastor Doug Sewell
Pastor Doug retired in April 2022. A search to replace him is ongoing.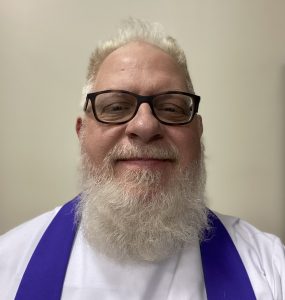 I have been a member of All Saints Community Church since the first year, and have served as pastor since 2009, and as a deacon for ten years before that.
My message is Biblical and positive, full of grace. I preach what Jesus Christ taught us, what He did for us, and how He can change our lives and partner with us. I encourage people to live the Great Commandment (Luke 10:27) and the Great Commission (Matthew 28:18-20), and to be what God made us to be – his children, ambassadors and representatives in this earth, doing what Jesus did.
My background is "evangelical charismatic". The Gospel is more than just making heaven when we die. It's the Kingdom of God and relationship with Him while we are still here. I believe in healing as part of redemption, the present-day operation of spiritual gifts (1 Corinthians 12) and ministries (Ephesians 4:11). My beliefs and theology have been influenced by many, including A. W. Tozer, Bill Johnson (Bethel Church, Redding CA), Bill Hamon (Christian International), Kenneth Copeland, and Kenneth Hagin, and others.