Our Sunday morning service starts at 10:15am.
Contact information
All Saints Community Church
4530 State Route 46
Cortland, OH 44410
Church phone 330-637-1946
Call or text Pastor Doug at 330-368-6504
email the church/pastor
Wedding information
Pastor Doug Sewell retired in April 2022. A search to replace him is ongoing.
Pastor Doug will perform any legal weddings (licensed by the State of Ohio, State of West Virginia, or Commonwealth of Pennsylvania) and Holy Union/Commitment Ceremonies (same, but not having a marriage license) as distance and his schedule allows. Weddings can be held at a location you choose, or at All Saints Community Church as the church schedule allows. Contact Pastor Doug for fees, availability, and more information.
Directions
All Saints Community Church is just north of Warren at 4530 State Route 46, Cortland, OH 44410. It's a distinctive off-white igloo about one mile north of West Main St on the right. If you're coming from the north, All Saints 1/2 mile south of St Robert church on the left.
Note that within Cortland, SR 46 is named Mecca St and has three-digit address numbers. The numbers change to four digit addresses just south of the church. The speed limit is 35 mph from the BP at 5 and 46 heading north to the church, and it is regularly patrolled.
Click the map below or our Google Maps link to find us.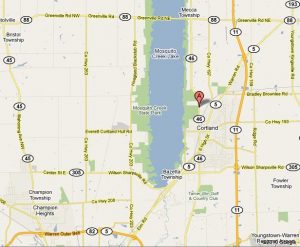 Front of the church from the south: